Introduction to the Online Booking System
Take bookings and payments 24/7
Upshot Media's online booking system can be adapted to your specific needs. It's easy to use, both for you and your customers – even if you're not normally confident with online applications.
Designed for, but not limited to ...

Course
Bookings
Set-up course bookings with options such as one day, multi day and attendee types.

Classes and
Workshops
Attendees on seats in a class, or people attending workshops, taking your bookings online to fill places just got easier.

Sports and
Leisure
Multiple booking options, could be used for; football, golf, tennis, swimming and many other activities.

Meeting Rooms
and Venues
Book meeting rooms or venues easily and allocate number of attendees.

Holiday
Bookings
Short breaks, weeks, multi-weeks and number of guests. Add extras such as linen, wine in the room, packed lunches etc.

Activities, Tours
and Experiences
Buy vouchers, allocate time slots and provide multiple booking options where an activity or experience varies.

Appointments and
Consultations
Online booking by the hour, multi-hour, half day or more. As flexible as you need it to be.

Events and
Festivals
Sell ticket sales for events, allocate maximum number available tickets, cut off times, single or multiple days.

Bespoke Booking
Types
Need something with a twist; we can develop new booking types to suit individual business requirements.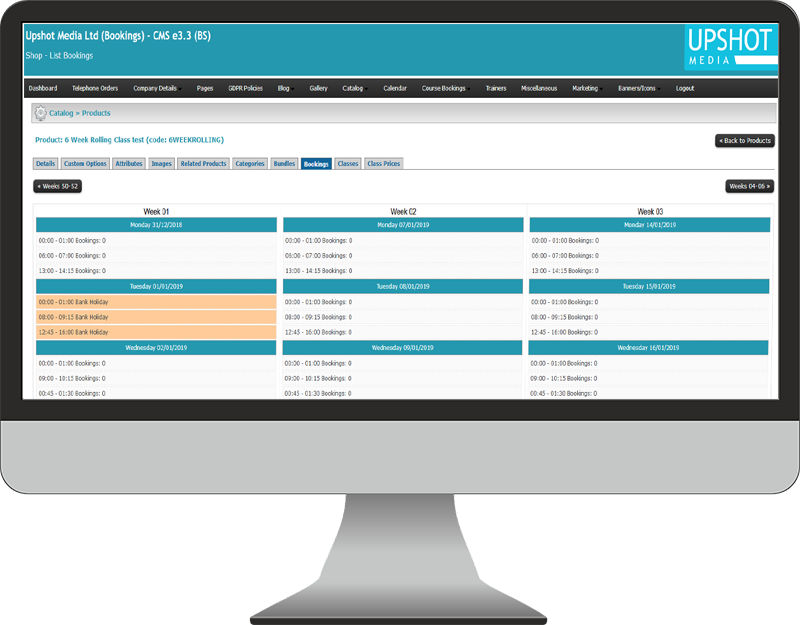 Booking System
Upshot Media's online booking system supports a wide range of features and can be as simple or as comprehensive as you need it to be. You tell us what you want it to do and we build it. Whichever features you opt for, the secure system keeps your customers' data safe and allows you to concentrate on other aspects of your business.
A perfect fit for small or large businesses
Ideal for small businesses where one person has many roles and cannot always get to the phone to take bookings. Great for large businesses where efficiency is key to success.
Our solutions are competitively priced...
"We're so pleased with the new IMDT website and the 'backend' admin side is perfectly customised for us. If ANYONE here is even considering a new website, I highly recommend Stuart Reed, the brains behind our IMDT site! On every single step of the design, build and tweak, Stuart would respond to our question instantly, that's pretty cool. Like it or not, a decent website is essential to get across your message and if you're gonna do it (and you will!), do it once and do it properly!"
Steve Mann, IMDT
take a look at our recent work