Upshot Media Customer On Dragons Den
19/05/2021 - Booking System
Jamie and Gemma Pound from UK Sniffer Dogs will be appearing on Dragon's Den on 20th May 2021. We can't wait to see how they get on - theirs is a truly innovative business and we're proud to be part of their journey.

What do UK Sniffer Dogs do?
I'm sure that you will be aware of police and security sniffer dogs - those beautiful beasts that hunt out drugs, explosives and the like. But did you know that your pet dog can use his or her nose for good too?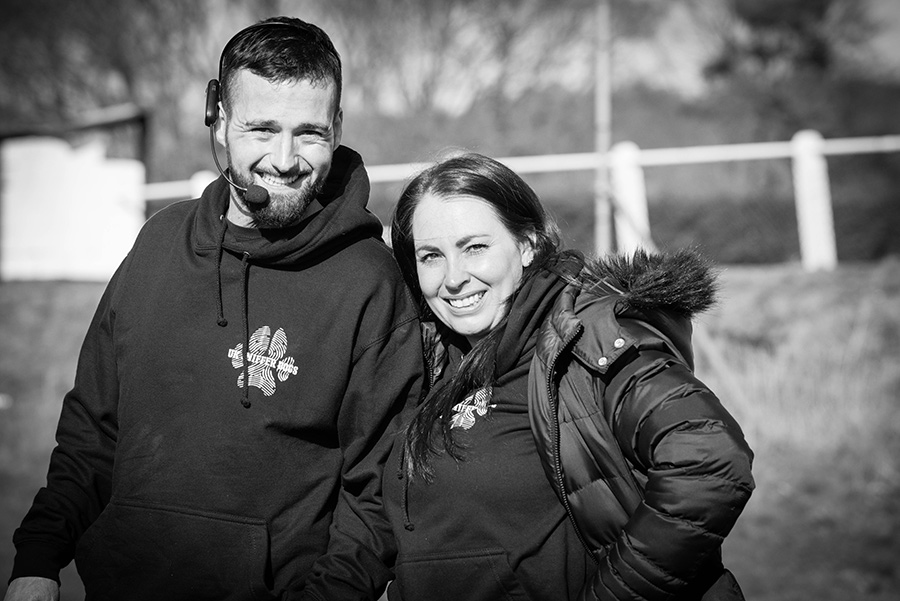 Your dog's nose has evolved to become his number one source of information gathering. Whilst we rely mainly on our eyes, ears and touch to interpret the world around us, your dog uses his nose. Giving your dog the opportunity to develop his sniffing skills is like buying art materials for a creative person. It unleashes the part of their persona that makes them feel fulfilled and happy. With sniffer dog training, anxious dogs become calmer, boisterous dogs develop impulse control, hyperactive dogs are more settled.

UK Sniffer Dogs is a dog training organisation who make scent detection training accessible to dog owners across the world.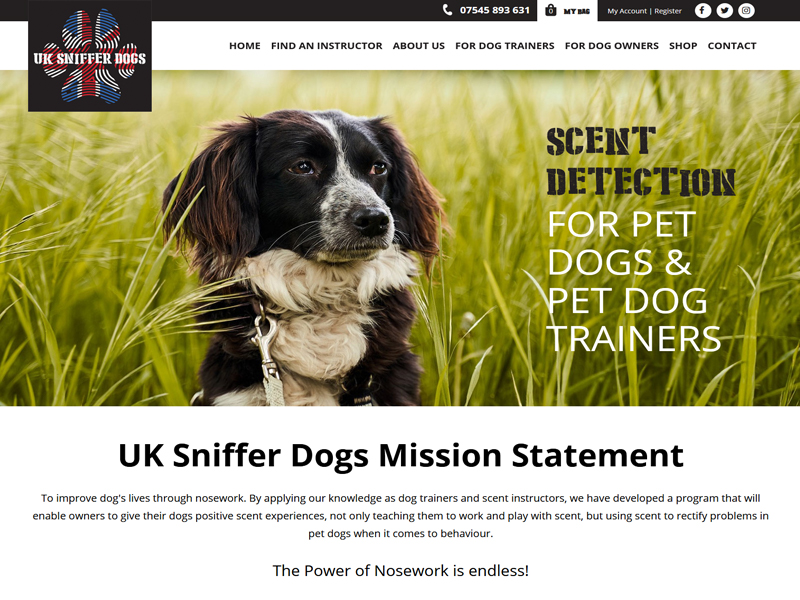 As well as training pet owners, Gemma and Jamie have created a series of progressional training courses for dog trainers. Having completed the course and gained their certificate, dog trainers can then promote and run sniffer dog training courses at their own venue.

Our part in their story
The Upshot Media team are well known in the dog training and pet care industry as providers of intuitively designed websites.

We've been working with Gemma and Jamie Pound of UK Sniffer Dogs for several years - before their new business was even thought of, let alone launched.

Gemma and Jamie have been running the highly successful Jamie Pound Dog Training since 2014 after Jamie's career as an electrician came to a tragic end after a very nasty accident. Jamie's pup Frankie helped him to recover from 45 percent burns. And the rest, as they say, is history.

Upshot Media were instrumental in designing, creating, developing and updating the online presence for Jamie Pound Dog Training and so we were delighted to be asked to build a website for UK Sniffer Dogs. The current website has recently had a re-design to accommodate new functionality. Safe to say that Jamie and Gemma are regular - and very much valued - customers.

About the website
There are 3 main functions to the UK Sniffer Dog website. All of which have been integrated into an attractive, user friendly site.

Training for dog trainers
The core of Jamie and Gemma's business - (and we think this is what has led them to the Dragon's Den) - is to spread the word about UK Sniffer Dog Training by teaching other dog trainers about the physiology of scent detection and the various dog training methods that can be used in classes.

Upshot Media's booking system is intrinsic in filling their classes. And for those who prefer online tuition, our video learning platform allows dog trainers to access pre-recorded tutorials via their personal login.

Directory of certified UK Sniffer Dog Trainers
Once a dog trainer has completed the course - either online or in person, Jamie and Gemma can add their contact details to a searchable database.

Pet owners looking for their nearest UK Sniffer Dog trainer can search either within a radius of their postcode, or within their preferred county.

This is a great way to generate business for the trainers and a convenient way for pet parents to find their nearest certified trainer.

Online Training for dog owners
Some dog owners prefer to learn online - particularly since the COVID-19 pandemic. The UK Sniffer Dogs website offers video tuition. Just like the training for trainers - videos are available behind a secure login once payment has been received.

Online Shop
Scent detection training is fascinating, great fun and something that pet professionals are proud to be associated with. Jamie and Gemma have developed a range of merchandise to help promote the vocation. These are available via an e-commerce shop developed by Upshot Media and integrated with the website.

Wishing Jamie and Gemma the best of luck in the Den
We'll be watching Dragon's Den on 20th May at 8pm with everything crossed for Jamie and Gemma. They have a truly innovative business and the entire team at Upshot Media have enjoyed working with them.

Good Luck! You deserve to do well!

Visit the UK Sniffer Dogs website. https://www.uksnifferdogs.com

Visit Jamie Pound Dog Training. https://www.jamiepounddogtraining.co.uk

Discover another innovative dog training website from Upshot Media. https://www.upshotmedia.co.uk/blog-post/online-bookings-system-dog-training/

The story of Arbour Landscape Solutions - a landscaping supplies website with bespoke functionality. https://www.upshotmedia.co.uk/blog-post/the-story-of-arbour-landscape-solutions/