The story of Arbour Landscape Solutions
27/11/2020 - Customer Case Study
From well-worn brochure website to ecommerce success. The story of Arbour Landscape Solutions

Arbour Landscape Solutions is a prime example of how investing in your website can pay dividends in terms of business success.

Upshot media were approached by Richard Bickler of Arbour Landscape Solutions in early 2019. Richard already had a website at www.arbourlandscapesolutions.co.uk but felt that it wasn't bringing a good return on investment. He found the content management system complex and unwieldy and every little tweak involved him paying a developer to do the work for him.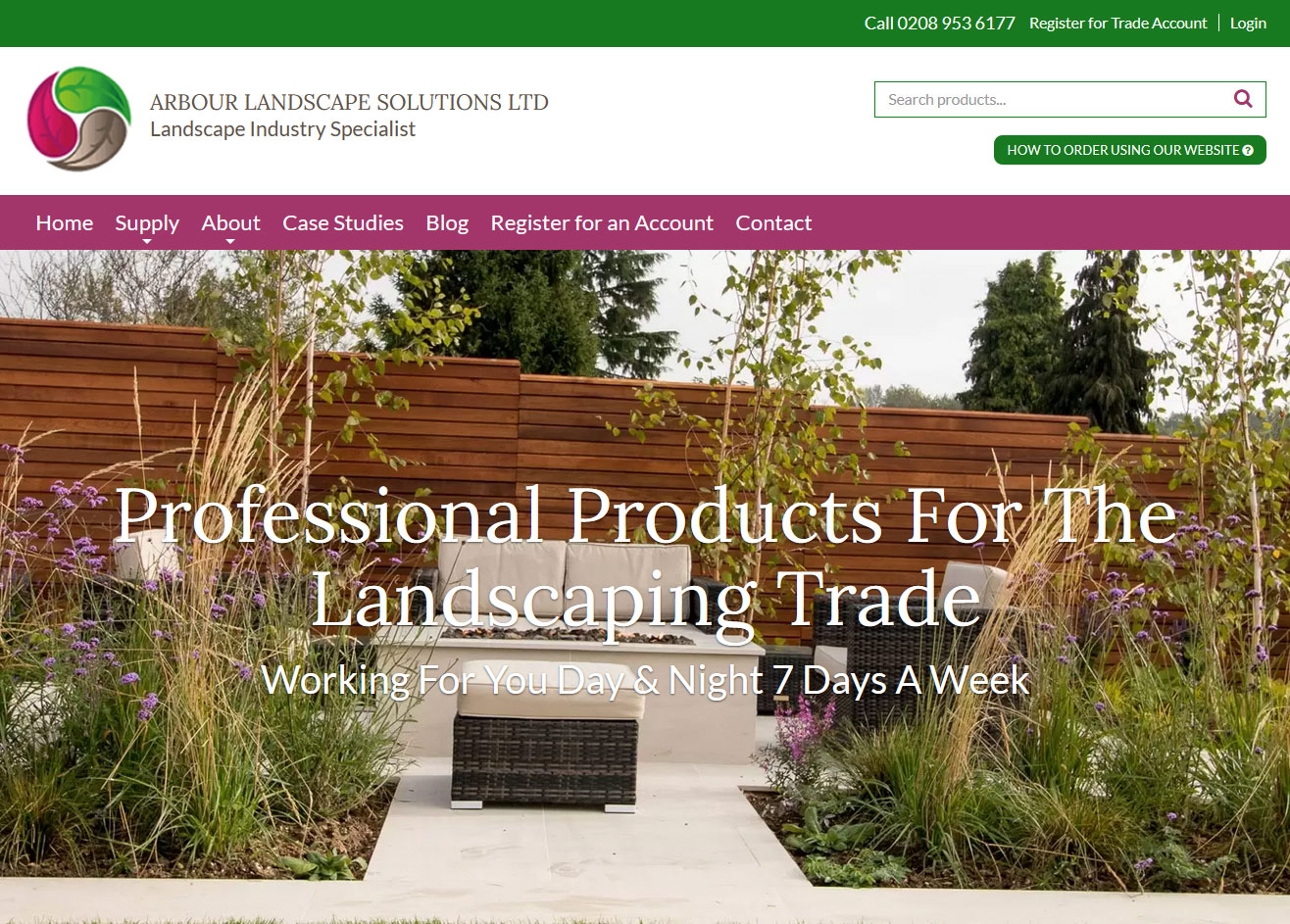 This meant that not only was the site expensive to run – it couldn't be as responsive as he would like it to be as instant changes just were not possible. In addition, with relatively few visitors per day, Richard was disappointed with the traffic volumes.
A little about Arbour Landscape Solutions
Richard established Arbour Landscape Solutions in 2016. Prior to that he ran a successful landscaping business but a back injury meant that he could no longer work "on the tools". Being an innovative kind of fellow. Richard decided to use his vast industry experience to offer consultancy and product procurement services to other landscapers.

When he first contacted Upshot Media, Richard's website was not meeting his business objectives. In the two years since Arbour Landscapes Solutions first launched, the company had evolved considerably and the website's features and functions no longer reflected the business. In addition, the site wasn't ranking at all well on major search engines and consequently didn't bring him much business at all. Finally, the back end of the website was quite complicated with several plugins – some of which needed updating.

The client brief
Richard met with me (Stuart Reed of Upshot Media) to discuss his wish list for a new website. We chatted about his target audience, the messages he wanted to get across, what actions he hoped people would take on the site and which aspects of the business he most wanted to emphasise.

After our initial meeting the brief was something like this
A good looking website with a distinctive colourway to set him apart from other landscape industry suppliers
Easy to use for visitors and for administrators
Fully responsive and able to adapt to any screen size
Built with search engine optimisation in mind
Showcasing both aspects of Richard's business - landscape consultancy business and landscaping supplies
We decided to add an online shop so that products could be viewed, priced and purchased online.
Ecommerce site to have a search facility to save browsing time for visitors
Online prices only visible to trade buyers – we needed a system for registration, verification and login
A wide range of products with different weights, sizes and shipping methods called for a flexible system for calculating shipping rates
The online shop was to be integrated with Richard's existing accounting software to save admin work.
As soon as an order was received, the appropriate warehouse site would be emailed to let them know what to despatch
The Upshot Solution
Upshot Media offer a range of website solutions, from budget brochure sites, and standard ecommerce sites to bespoke programming that meets the client's exact needs. For Richard's website, we used a combination of approaches.

Upshot Media's Content Management System is at the heart of Richard's website. It's user friendly and allowed Richard and his team to populate the site with information before it went live.

UX is crucial – Upshot's development team wire-framed a simple navigation system which quickly leads visitors to the information they need.

Our standard ecommerce platform was honed and developed to allow Richard and his team to add downloadable technical sheets to product information.

The shipping matrices had to be developed from scratch – this required some sophisticated coding as the calculation varies from category to category. Variations include destination postcode, distance from warehouse, weight, quantity, size and order value. Multi-product orders may involve more than one shipping matrix.

The Upshot team also created a registration system where each customer would have a secure space within the site to store contact and billing details. This space would later be developed to include a quoting system. More about that later.

The registration system means that trade prices are only visible to users who are logged into the site. Products, company information and blogs are available to all.

To help with search engine optimisation, we added our standard blogging platform. Again, this is very user friendly and after only one short training session, Richard and his team are able to keep the website fresh and interesting.

Of course there's more to SEO than just blogging, our development team were very conscious of things like page speed and responsiveness. Once the site was published and fully populated with products, Richard invested in our Search Engine

Optimisation service to improve its online ranking.

Arbour Landscape Solutions in 2020
At the time of writing, the Arbour Landscape Solutions website is a roaring success. Richard has continually invested in the site. Adding more products, developing more tools for his visitors to use and making the most of Upshot Media's SEO services.

There are currently over 1500 products and 30 shipping matrices on the website – all added by Richard and his team via the content management system

The site is on the first page of Google for most of the search terms Richard wanted to target. Other relevant search terms are steadily climbing up the rankings.

Visitor numbers to the site have increased more than 10 fold and the ecommerce conversion rate averages almost 2% all year round. Which, considering landscaping is a seasonal business, is quite an achievement.

A custom built quoting system means that landscapers who are pricing a job can create a quote for the tools and materials they need, adjust quantities as required and then, when they are ready, can click the 'buy now" button to populate the shopping cart and place their order.

A more sophisticated search shows all relevant products for any search term typed into the box.

Customers are now able to select their preferred delivery date, thus making project management much easier.

An online chat facility means that website visitors can have instant answers to their questions

Richard's business has expanded to employ (as well as himself) two full time administrators, and two marketing professionals. He's expecting to expand the team even more in 2021.

Going forward
This uber-successful e-commerce site is about to become even better. Upshot Media are working with Richard to develop a new-look site which is even easier to use and has some exciting and innovative features. I'm not at liberty to say more – but I can't wait to show you the site when it's published.

Would you like your website to bring you a better return on investment? Talk to Stuart today about website design and search engine optimisation.

Contact Upshot Media
Discover how our booking system could make your life easier https://www.upshotmedia.co.uk/booking-system

Can your business afford not to have an online shop? Find out more here https://www.upshotmedia.co.uk/ecommerce