Innovative website takes dog training to another level
18/03/2021 - Booking System
In February 2019, Zoe Willingham, an acclaimed dog trainer and one of Upshot Media's regular customers approached us with a unique request. Could we adapt her booking system website to support an idea she had for online dog training courses? Always keen to innovate and help develop our clients' businesses, we immediately said yes.

That was the start of Dogversity. A series of highly adaptive, video based dog training classes designed for people who want to develop their pet's lifeskills at a time and a place to suit them.

Bringing innovative online business to life

Business Development Director, Stuart Reed, began by discussing with Zoe how she wanted her updated website to look and how she imagined the customer journey would work. Zoe was keen to continue building her existing, face-to-face dog training classes whilst also diversifying to offer online tutorials too.

Stuart suggested presenting the online dog training classes as a separate section of the website. Whilst also making some exciting changes to the existing site so that the old and the new could work in perfect harmony.

The home page was given a total refresh to incorporate a large, well designed call to action which invites visitors to choose between traditional or online dog training. Product pages were given a new look and Dogversity was added as a separate part of the website, with its own landing page.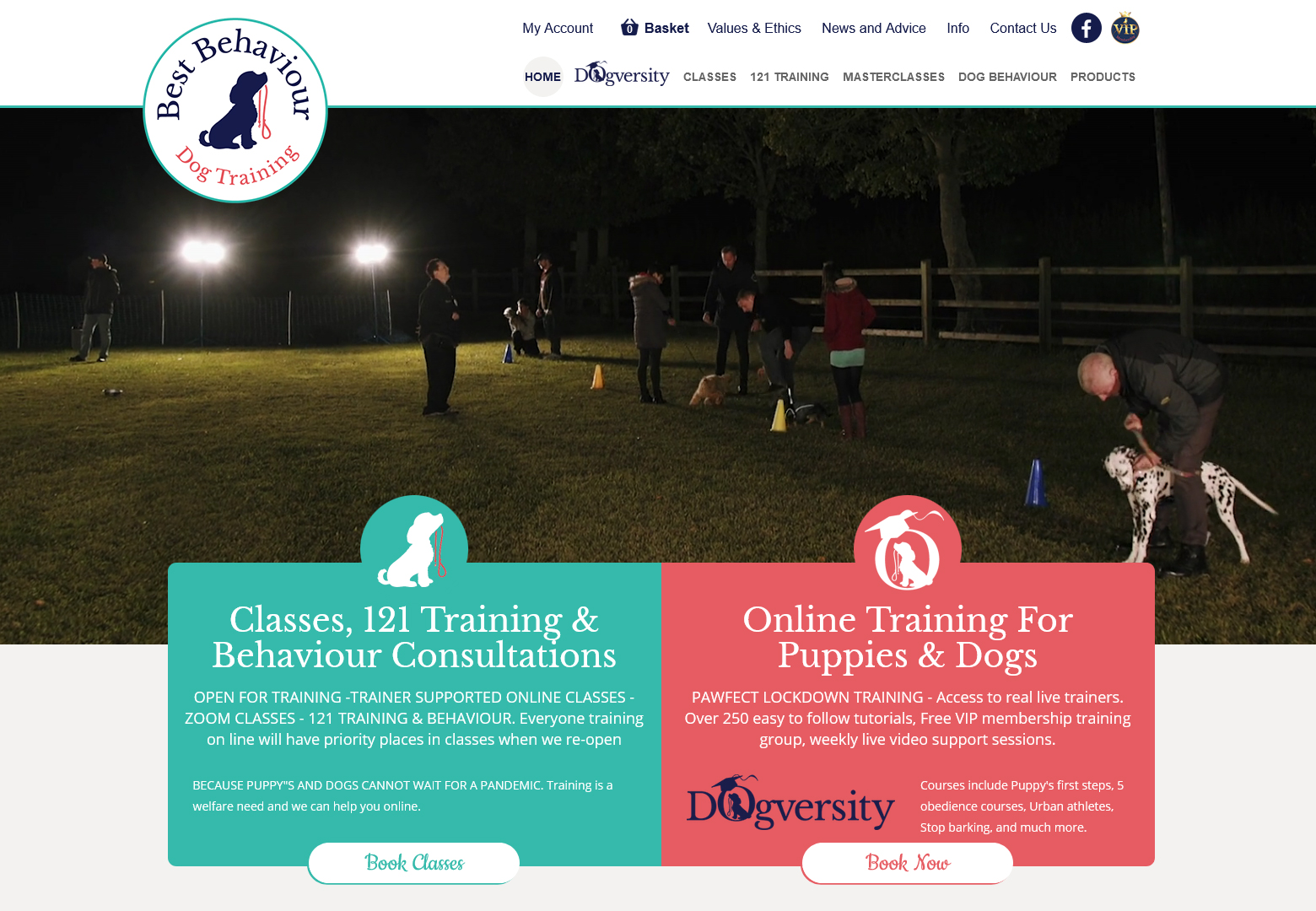 One interesting facet of the Dogversity landing page is that it changes according to how the visitor finds it. If you navigate to the landing page from the Best Behaviour Dog Training home page, all of the headers and menus will remain consistent throughout. That way visitors can explore the online and the offline offering.

However, arrive at Dogversity via a link found on social media, in an email or direct from Google, and the traditional, face to face dog training menus are no longer visible. This is strategic marketing, designed to remove distractions and encourage the visitor to focus on the features and benefits of online dog training.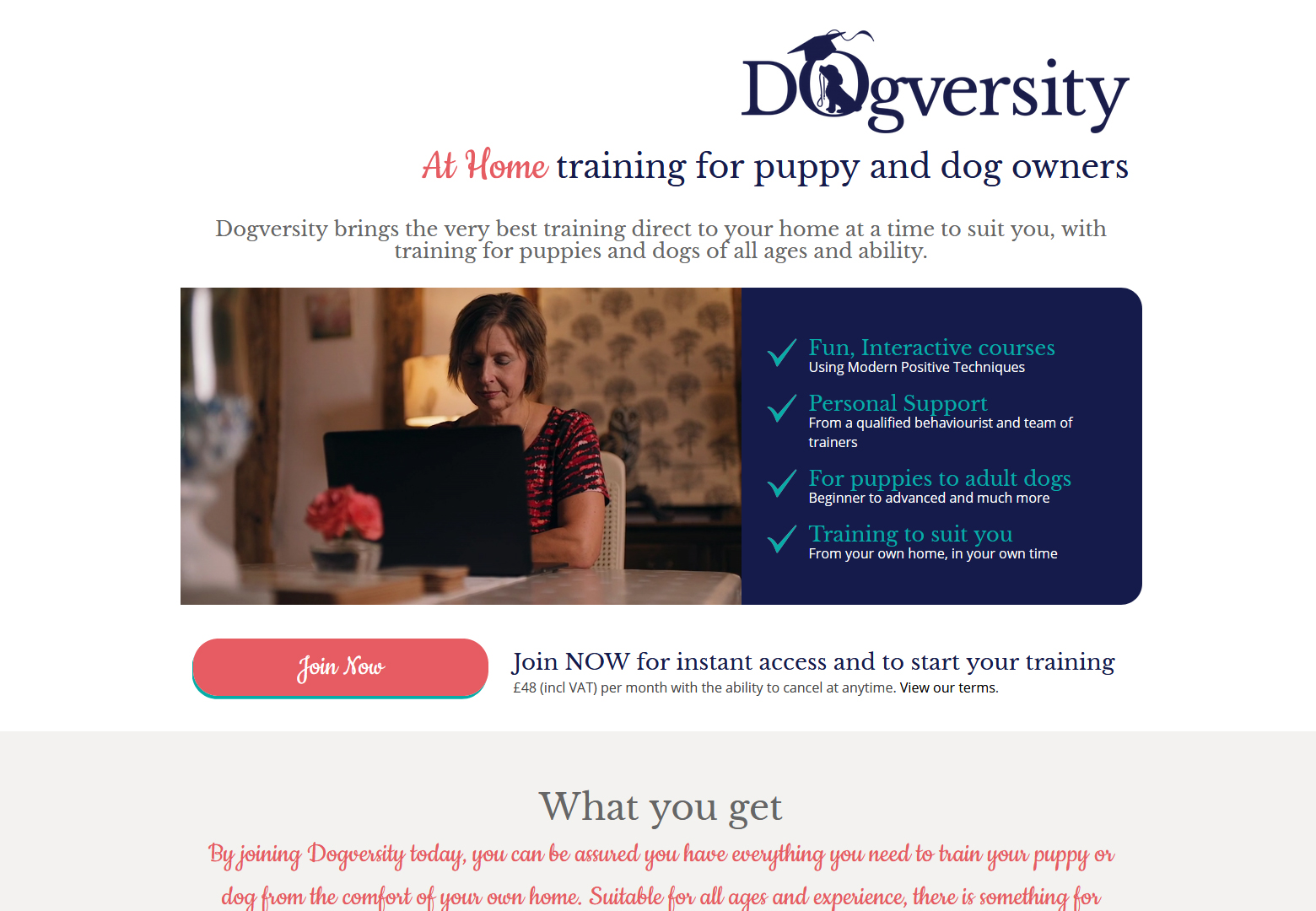 Building a website to sell a virtual service

Upshot Media's Lead Programmer and Development Director, Jason Goodyer, knows that user experience is key to a website's success. However, good looks and an easy disposition are just as important.

Before COVID, online dog training (at the time) was almost unheard of and so the first function of the website would be to educate visitors as to just exactly what they could expect when they signed up.

From the moment a visitor lands on the Dogversity welcome page, strong graphics and the use of video make it clear how they will benefit from Dogversity.

A large call to action button, then leads prospects further into the site, where they can subscribe to the service. Once payment has been received, subscribers can then access their dog training videos.

After spending many hours and quite a lot of money on professionally produced video, Zoe naturally wanted to protect her assets. For this reason, it was important that the videos can not be accessed anywhere else on the world wide web. Hence, Jason built Zoe a website with the capacity to host and protect the dozens of video tutorials that make up Dogversity.


How long did Dogversity take to create?

From start to finish, it took a little over six months to develop the Dogversity section of Best Behaviour Dog Training's website. But please don't be horrified by that. Jason was not programming solidly for all of those weeks! Website development is a collaboration between the designer, the programmer and the customer. There are words to write, photographs to source and periodic design and functionality checks to make. As well as running her business, Zoe was working hard to film and edit all of the videos she needed to make her website complete.

It's interesting to note that this website was developed long before COVID reared it's ugly head - I think it's safe to say that Dogversity has been the inspiration for many a lockdown adaptation…. Once again, Upshot Media has helped bring innovative website ideas to life.

Have you got an exciting business idea that you'd like to take online?

Get in touch with the Upshot Media team today

You might also find these articles interesting

Case study: From a little idea to a global business. https://www.upshotmedia.co.uk/blog-post/canine-hoopers-world/

How easy is it to take your business online? https://www.upshotmedia.co.uk/blog-post/how-easy-is-it-to-move-your-business-online/