Do I need a 'Google My Business' Listing?
Using a Google My Business listing as part of your Search Engine Optimisation strategy is an easy and affordable way to improve your business visibility.

Here's the Upshot Media guide to getting the most from Google My Business.

What is "Google My Business"?
Google my business is a free tool from the world's biggest search engine. In simple terms, it allows potential customers to find your business and learn more about it. At a glance, Google My Business tells customers
Where you are based
What you do
When your opening times are
How to contact you
What other customers are saying about your products and services
Customers can then choose to contact you directly, visit your physical business, go to your website for more information or ask you a question.
How could "Google My Business" listing benefit my organisation?
When somebody uses the Google search engine to look for a product or service, the Google My Business box nearly always appears near the top of the screen with a list of suggested businesses.

For example, if I were to type "Web Developer in Sudbury" into my search box, I would see this on my PC screen

The first 4 listings (omitted from the screen shot) have a little "ad" symbol beside the URL. This tells us that those companies are running a pay-per-click campaign and have paid to promote their website. We will cover more about pay per click marketing in another blog.

Below the paid listings is the Google My Business box and below this you will see the natural search engine listings.

Internet users want instant results and rather than keep scrolling, they will click on the first relevant link that attracts their attention. Quite often, that will be in the "Google My Business" listings. So it's important that your business appears in those listings. The better you optimise your listing, the higher it will sit in the rankings.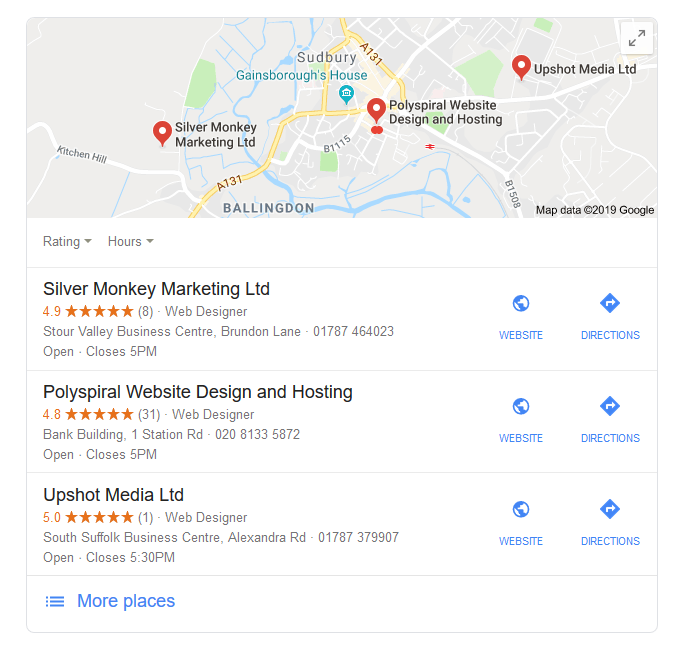 What does a Google My Business listing cost?
If you set up your own Google My Business listing, it costs no more than your time. There are opportunities to boost your position with paid advertising, but it's by no means compulsory. Because Google My Business is essentially free it's a cost effective addition to your marketing mix.

How to set up a Google My Business listing
Check if your business is already listed

Log onto Google and type your business name into the search box. Google sometimes auto-generates a very basic business listing for you, particularly if your business is quite well established.

If a GMB listing does appear for your business, it's very easy to apply to claim and improve it.

No listing? No worries. It's very easy to set one up.

Use this link to claim and/or start building your business description.
https://business.google.com/create?pli=1

Start by entering the name of your business

If GMB recognises your business name, it will appear on the screen. Select your business or ask to create a new business. Then press "next".

For an existing business you'll be invited to claim the listing – just follow the simple on-screen instructions. It might take a few days for Google to verify that you are genuinely connected to the business but that's a good thing. It means that your competitors can't hack your listing.

For a new listing the next screen asks if you want to add a location to your business. Click "yes". Frequently used search terms often include the term "near me". Google will use the geographic information on your listing to show your business to searchers who are local to you.

If you have more than one shop/office/location, it's well worth completing a listing for each of them.

When you click "next" you'll be invited to add your business address and details about your opening times and your products and services

Every stage of the set up for Google My Business is clear and simple. You certainly don't need a degree in computer programming to set one up. Just time and a little bit of confidence.
Optimising your Google My Business Listing
Unless your business is incredibly unique, you will have competitors. And it's highly likely that your competitors will also have GMB listings. Optimising your listing increases your chances of reaching potential new customers.

Here are the results for a search for "dog trainer in Stowmarket".

Notice that the second business on the GMB list is also top in search engine rankings. Straight away, the searcher can see that this Company has won Google's trust and is clearly worth investigating. (Amongst other things, Google ranks sites according to how relevant, user-friendly and informative they are)

SEO has been used to optimise the website but how does the GMB listing for Best Behaviour Dog Training rank so well? It too has been optimised

At first glance, you can see that Best Behaviour has a phone number, opening times, a website and lots of lovely 5 star reviews. That's a mix of information added by the business owner and by customers.

The company above has different opening hours and a few more reviews. The company below has no link to a website and is still waiting for reviews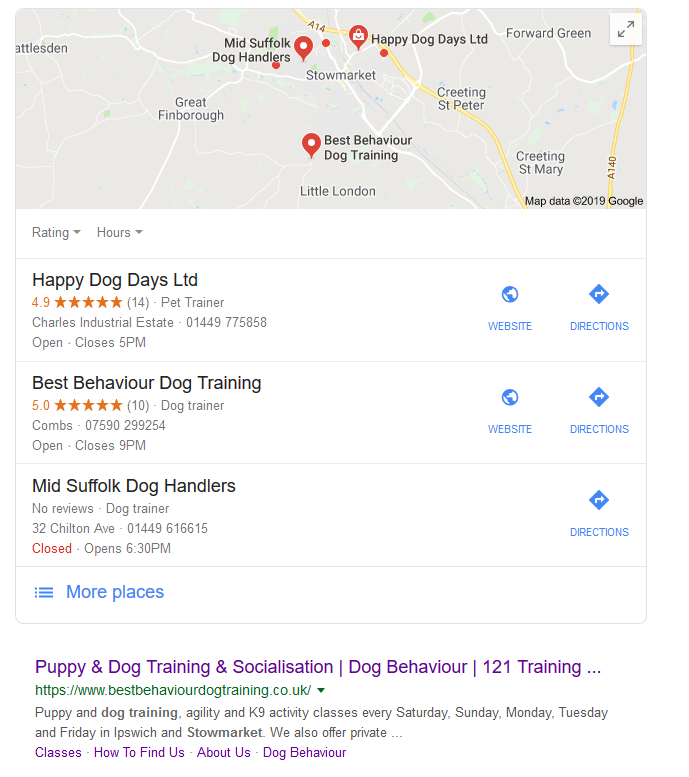 As with most of Google's activity we can't know for sure how exactly it decides where to rank a business on GMB but we're pretty sure that important factors include
Relevance to search terms used – make sure you use key phrases in your descriptions
Location in relation to the searcher (or search terms used)
Quality and quantity of customer reviews
Photo content
If you were to follow the link to look deeper at the GMB Business, you'll find lots of photos from the business owners to illustrate their services, as well as maps and directions so you can see exactly where they are. You'll also find honest independent reviews from customers.

The more information you can add to your listing, the better it should rank. A carefully written company description serves two purposes. Firstly, it showcases your products and services for prospective customers. Secondly it helps Google to understand your business so that it can show it to relevant searchers.

Customer reviews are vital. In the example above, the probable reason Best Behaviour are not top of the tree is that their competitor has more reviews. Once your GMB profile is up and running, encourage your customers to post reviews.

Make Google My Business part of your digital marketing strategy
My two top recommendations for cost effective digital marketing are an ongoing Search Engine Optimisation programme for your website and using Google My Business. If time allows and your business lends itself to the medium, you should also consider regular social media posts, conversion rate optimisation, digital PR and possibly Pay Per Click advertising.

Your website is, or at least should be, a digital sales person working for your organisation 24/7. If it's never visited it will never convert visitors into customers. SEO is a bundle of disciplines that encourage as many search engines as possible to drive visitors to your website where they can be converted into customers.

Google My Business does not replace Search Engine Optimisation (Google is not the only search engines!) but it's an incredibly useful tool for improving your online visibility and for helping customers to find your business.

Help with Google My Business and SEO
Not everyone has the time or the confidence for search engine optimisation tasks such as setting up Google My Business. If you are one of the many, Upshot Media offers GMB management as part of our SEO services.

Upshot Media services are tailored to your business. We look at your current situation and at your business objectives and work with you to devise an affordable programme to help you achieve your goals.

Call us today for an informal chat about your SEO and Digital Marketing