From a little idea to taking over the Canine Hoopers World
10/12/2020 - Customer Case Study
Taking her idea online took this Upshot Media client to global success with a web-based -training business.

Upshot Media helped Carrie to create a website capable of taking bookings for face-to-face courses and online courses, for both Dog Trainers and Dog Owners. Today, Canine Hoopers World is an international success in the dog training world.

Carrie-Anne Selwyn is, above all things, an animal lover. She grew up with horses, cats, dogs and a menagerie of pets. Her career path intuitively followed her passion to become a fully qualified dog trainer. Quite by accident, Carrie-Anne stumbled across a little known canine sport. As her interest in the sport developed, she conceived an idea which, with the help of Upshot Media, evolved into a global business. Using her website as a marketing tool and as a platform for her Canine Hoopers dog training business, Carrie-Anne's little idea has turned into an international market leader.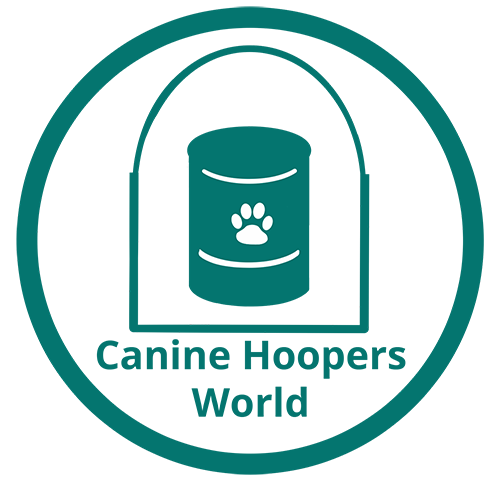 A little background information
Dog training is an incredibly diverse industry…..a bit like medicine. Doctors may specialise in general practice, paediatrics, oncology, surgery, ears and noses – and well – the list is endless. Similarly, dog trainers might specialise in agility, obedience, trick training, gundog training, behavioural problems, rehabilitation and more – again there's a long list.

Carrie-Anne was introduced to Canine Hoopers, then a little known doggie sport, by a fellow dog trainer. Canine Hoopers proved to be incredibly beneficial for Minx, one of Carrie's pet dogs who had been mentally scarred by a scary encounter with a bigger dog and was struggling to recover. The sport offered Minx a physical and mental release from her anxiety. Within a relatively short time, as well as improving her physical fitness, little Minx regained some of her former sassiness.
Inspired by Minx's success, Carrie-Anne wanted to spread the word about this amazing sport. After mulling it over, she decided to train other dog trainers so that they too could introduce Canine Hoopers to their clients. Canine Hooper's World was conceived.

Launching the business
Of course, it's people who make businesses but as well as drive and enthusiasm, they do need the right tools to develop their ideas and reach new audiences. Any business, no matter how big or small, needs some kind of online presence. A website has many functions
Allows the business to be found by prospective customers
Showcase the products and services on offer
Introduce the personalities behind the business
Build relationships with clients
Encourage sales
Advocates can recommend the business by sharing website address
Allow clients to book courses or buy products
Carrie-Anne knew that she needed a website but as someone who only really used a computer to send and receive emails, she worried that her lack of knowledge would be a hindrance to building and managing an online presence.
At this stage, her vision for Canine Hoopers World was modest. Carrie-Anne's aim was to reach UK based dog trainers and offer face-to-face tuition. Her initial thoughts were to ask people to call or email her to book courses.
However, after chatting with Stuart Reed of Upshot Media and having a demonstration of Upshot's user-friendly content management system, Carrie –Anne felt confident enough to commission an online shop and website booking system so that prospective customers could sign up online. This approach would potentially mean faster conversions and less administration work.

Developing the business
The joy of an Upshot Media website is that clients can easily add and edit new pages and products without needing the help of a developer.

CanineHoopersWorld.com has a number of features and benefits that Carrie-Anne has been able to harness in order that her website could grow with her business
Booking System
Upshot Media's booking system allows website visitors to select course dates with just one click of the mouse. On the back-end of the website, Carrie-Anne is able to not only see who has booked, and when; she can set up automatic email confirmations and reminders.

The booking system allows administrators to set up the maximum number of delegates for each course – so sessions are never overbooked. Orders received by phone can be added to the back end of the website and delegates will receive the same communication as online bookings.

More about our booking system

Video Hosting
Some of Canine Hoopers World courses are delivered partly by video. These are hosted on the website but "hidden" behind the login. Trainees can access their video lessons once payment has been received.

Online Shop for Courses and Merchandise
Upshot Media's ecommerce solutions provide a great user experience and are easy for site admins to use. It is highly adaptable and can either be fully integrated into a new website or added as a sub-domain to an existing site.

Carrie-Anne uses her online shop to offer training and merchandise online. This means that she can (and does!) reach customers all over the globe. In fact CanineHoopersWorld.com is now one of the best-known businesses in the industry. A quick peek at the online directory will give you a taste of how successful modest business idea has become.

Online directory
One of the benefits of training and gaining accreditation through Canine Hoopers World is that qualified dog trainers can be included in a fully searchable online directory. Dog owners who wish to partner up with a teacher can easily find a suitable dog trainer. A drop down box allows anyone to narrow their search by Country and by County

Marketing the business
CanineHoopersWorld.com has gone from strength to strength since its inception. A website cannot grow a business without marketing, and modern marketing almost always has a website at its core.

Carrie-Anne uses social media and networking to engage with potential customers and to drive them to the website where they can find the information they need to fuel their decision making process. However, if Upshot Media had never given her the confidence to create an ecommerce website instead of a simple brochure site – who knows? Canine Hoopers World may never have attained the global reach and respect that it has today.

Visit CanineHoopersWorld.com

Taking your own business idea to the next level
Have you been thinking about taking your business online?

Worried that you don't have the technical prowess to manage an ecommerce business? Upshot Media websites are so user-friendly that it will take you minutes to learn how to add or edit information. Our team can also offer advice on marketing and search engine optimisation to help your new website reach its full potential.

Click here to request a free demonstration of Upshot Media's easy content management system

View some examples of our work